To celebrate our 9th Birthday, CAN-FIND is offering our lowest ever promotional rate. Meaning you pay only £249 for A COMPLETE YEAR of advertising!! The offer includes:
1) Multiple High Impact BANNER Advertising in our Buyers Guide

Stand out against your competitors in our Buyers Guide by advertising your banner (or video) in up to 5 different categories (Normally charged at £99 per location).
The banners can rotate up to 5 separate images of your choice. Each banner will remain active for 12 months and can easily be re-activated the following year. Banner spaces are available in all category pages within the Buyers Guide (see below example).
Please note; if you do not see a banner location on each supplier category page, one will be created immediately upon request.
2) - Logo & Live Link Advertising in the Categories of the Buyers Guide (see below screenshot)
Maximise your branding in our Buyers Guide by advertising your company logo and creating live links to your own website in every Category you are listed in!
Our Buyers Guide has over 130 categories. In each one we have 5 available areas located at the top of each page. These areas are for your company logo image (approx 35mm x 15mm) complete with a link to your own website. With this is option we also make all your contact details "live" so suppliers can contact you directly from our links.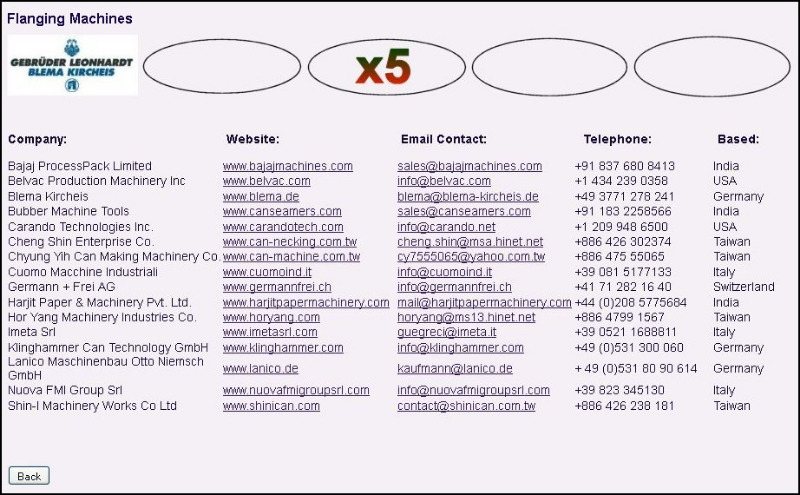 Purchase our WorldCan £249 promotional package below or contact us if you prefer an alternative payment method.
Upon receipt of payment for any advertising package, you will receive an introduction email requesting you to send us your logo images and/or any other content you would like to display. Payment by bank transfer is available on request.
By purchasing any package from CAN-FIND you are agreeing to our Terms of Use & Privacy Policy.